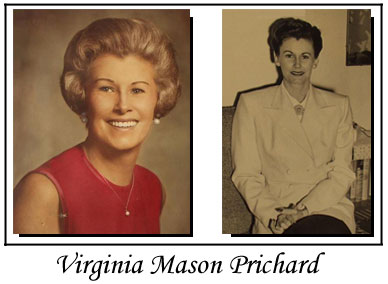 Virginia Mason Pritchard Garhardt was born in San Diego, California, July 10, 1912. She received her name from her great grandmother, Harriet Virginia Kimberlin.
Virginia's family relocated several times, including Matazlan, Mexico and Alameda, California. Her father, Charles Peyton Pritchard, died of pneumonia when she was only ten years old. Following her death, Irene was swindled out of the family fortune by "investors". Life changed abruptly for the Pritchards – gone was their comfortable lifestyle.
The family relocated to San Diego, where Virginia graduated from High School.
Around the year 1932, Virginia married Malcolm Ebenezer Garhardt. Malcolm was a tall, strikingly handsome man of German descent. They gave birth to Lynne Alys Garhardt (mother of the author). Malcolm later left the family forcing Virginia to raise Lynne on her own.
Virginia worked for most of her adult life, largely in the Los Angeles aircraft industry. She worked nine years with Lockheed Aircraft company and twenty-three years for Hughes Aircraft Company (HAC) as an executive secretary. At one point in her career at HAC she personally reported to Mr. Howard Hughes.
She resided in the 'storybook' Los Angeles seaside community, Hermosa Beach, to be close to her daughter and grandchildren.
The author of the Golden Seat has distinct memories of his Grandmother ('Nana') taking him to the Science of Mind (SOM) church in Redondo Beach, California. The ideas of SOM and the people he met during his young years left a strong impact on his understanding of (gnostic) Christianity and spirituality.
Virginia loved to write poetry in her young years and cultivated strong creative writing skills. During her spare time, she and another author wrote a novel about the drama and struggle of families enduring the crossing of the Atlantic Ocean during the colonial days of America. The novel made it through several reviews resulting in a showdown against another top prospect. Virginia's novel was passed only because of its length. The other novel was 'shorter' - qualifying it for publication. Virginia's enthusiasm to endure 'another rewrite' was swamped by the 'storm' of the publisher's dismissal, a storm not unlike the ones her colonial character's had to endure. Virginia's novel sailed on without her.
The author of the Golden Seat expresses his gratitude in his 'Nana' helping him with his school writing. Quite often, he would hear her say, "Oh, Donald, you can do that!", while she corrected the grammar.
Virginia loved Japanese art, Asian cooking and gardening. She would cook 'wok' style and even learned to make sushi which didn't become popular until many years later.
In 1984, suffering from shingles, Virginia moved to Palm Springs to be in dryer, warmer climate. Sadly, she never completely recovered. It was during this time that Virginia was diagnosed with a serious blood disorder. After the Palm Springs earthquake of 1985, Virginia was too ill and too weak to start over; it was then that she moved in with her daughter, Lynne Eggleston, in Temple City, California. On December 28, 1987, the day after her daughter's birthday, Virginia died of hemochromatosis.
Virginia was a beautiful, petite, lady with fair skin and blueish-greyish colored eyes. She was very intelligent, well read and for the most part a self-taught individual. In her retirement years she traveled to Mexico, Spain and Europe.
Virginia passed on to her grandson, the author of this website, a keen interest in religion and spirituality of which motivated him to study Modern Metaphysical Spirituality, New Thought religions, and to find a visual touchstone that harmonizes Science, Religion and Philosophy – The Golden Seat.
z